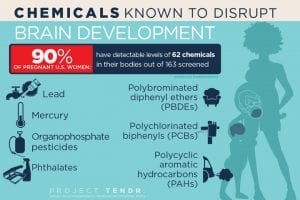 CREDIT: GRAPHIC BY JULIE MCMAHON
Let's face it. We live in a toxic world where exposure to harmful chemicals regularly occurs. These chemicals are pervasive in our air, water, and the products we use on our bodies and in our homes every day. It really isn't realistic to avoid toxins in today's world, but we can mitigate their harmful effects and reduce exposure to them through some reasonable actions and the use of essential oils.
In a new report, Project TENDR: Targeting Environmental NeuroDevelopment Risks, released July 1, 2016, dozens of scientists, health practitioners, and child advocates seek to draw attention to the damaging effects of chemicals to children. They particularly point out the host of chemicals that endanger child brain development. Some of the chemicals this panel is concerned about include lead, mercury, organophosphate pesticides, phthalates, flame retardants, and air pollutions produced by burning wood and fossil fuels.
The human brain continually develops into early adulthood, but the largest growth occurs during gestation when neurons are forming, migrating, maturing, and differentiating into specialized nerve cells. If exposure to chemicals disrupts this process, permanent brain damage can occur. In addition, the endocrine system is intimately involved in every aspect of brain development through the production and release of thyroid hormone. Many of these chemicals are known to disrupt endocrine system function (called endocrine disruptors), which puts developing babies at risk of reduced neuron formation, and reduced myelination of nerve cells. Reduced myelination is associated with developmental delays and behavioral disorders.
Fortunately, we have essential oils to help reduce the damaging effects of toxins and exposure to them by creating our own personal care and home cleaning products. Here are some examples of the protection afforded by essential oils from Evidence-Based Essential Oil Therapy:
Black pepper essential oil prevents chemicals from bonding to DNA, which may reduce the risk of cancer.
Geranium essential oil has been shown to protect neurons from toxicity caused by excess zinc.
Inhalation of lavender essential oil protects neurons from degeneration by increasing antioxidant levels and activity.
Lemongrass essential oil reduces the death of neurons caused by glutamate toxicity.
Take the steps today to reduce the toxic chemicals in your home, replacing them with natural essential oil-infused homemade products. And continue your aromatic lifestyle to realize the virtually unlimited health potential of essential oils. For more information about the harmful effects of chemicals and how to encourage normal cleansing and detoxification read my book Surviving A World Overwhelmed with Toxins, which includes a remarkable 48-hour cleansing protocol.
https://authorscott.com/wp-content/uploads/2016/07/mask-469217_1280.jpg
856
1280
Scott A. Johnson
http://authorscott.com/wp-content/uploads/2019/09/Left_header_4-b.png
Scott A. Johnson
2016-07-01 14:26:31
2016-07-01 14:27:20
Surviving a World Overwhelmed with Toxins